Dance Improvisation: Connecting to Source through Magical Arteries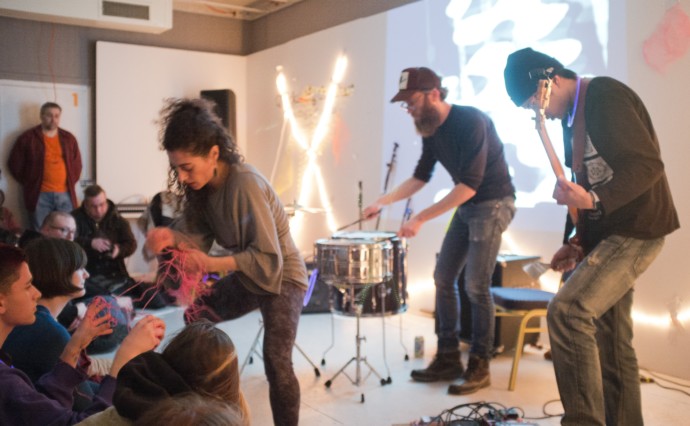 This weekend I'll be teaching my first workshop in NYC of 2018,
Connected to Source: Deep Listening & Freedom of Expression through Dance Improvisation.
And for the first time in the three years since I moved away from NYC, I feel really excited and energized to be heading in to share my work in the city. As in, not secretly dreading or deliberately avoiding NYC (a la 2016 & 2017), but sincerely looking forward to working and playing there.
Why? Because I know it won't suck me dry.
I know that even with all the crazy paced running around to get anywhere, the dulling sea of myopic gazes and the drowning noise of lights and sounds and advertisements, I'll be shining on. That is to say, I don't expect to be leaking too much energy.
Not too much. Maybe just a little, because there's no use wasting as much on the effort of guarding it in as I would on letting it out. Some energy out means space for energy in after all, and strict orthodoxy of any kind is a dangerous form of militarism in today's world. But even with those little leaks, I'll be motoring through the streets to teach my workshop, dropping in on favorite classes and jams and reconnecting with dear friends fueled by confidence that the energy balance is in my favor.
It's not my clairvoyance I'm relying on to know that, unlike the past, this time I'll be coming home with more energy than I expended…
Wasting clairvoyance on seeing into the future and holding on to a specific image of how things will be is a surefire way to cut yourself  off from your creative energy.
I have no idea if things, and the workshop especially, will go well. People, the studio, and even material I'm sharing will be new, so lots of unknowns await. And I'm not relying on a game of low expectations to keep my balance and protect me from the drain of disappointment. I have a fair share of expectations, but they're not really about outcome, they're about what I'll treat my life force to: surprise, stimulation, intimacy and perspective.
In part, I can be sure that I'm in a very different place because I gave myself the time and space to fully integrate a deep transition.
When I closed my beautiful Brooklyn studio 3 years ago and moved upstate to Newburgh, it felt like a free fall at times. But I was aching to be more fully invested in my art work, dance improvisation at its core, and walking my holistic talk was motivating me to find a more quiet and balanced life. Permission to do less and observe more helped facilitate a seismic shift in my inner world.
Now that I'm easing back into doing more, the quality of my doing is very different.
Still, my confidence in riding the energy of the city with mastery and grace is not so much about the past or the future. It's about what I know I can do in the moment.
This is what dance improvisation is all about, and this is what it's taught me about myself:
I know I can keep myself grounded. And balanced. I can find great pleasure in falling and satisfaction in resistance. I know I can soften in an instant to avoid a hard blow… or to welcome a warm embrace. That I can articulate what I feel with great clarity and bring a sharp focus to the small details splitting my attention. I've learned I can release a thought or a plan that's weighing me down and catch inspiration from a random sideways glance. And that I can listen with patience and curiosity to the subtle shifts of my energy and take a pause when I need, or even pause just because.
To pause in NYC! And just because, no less!
If that's not art, it's sorcery. Or rather, Sourcery: because doing it on a whim comes from a deep connection to the inner flow of your impulse, blood and breath. It's Artery too! Because cultivating your pathways to that deep connection is a matter of artful craftsmanship, fueled by passion and imagination and informed by patience and technique.
Dance improvisation is the practice of cultivating arteries to your life force.
It is a magical, powerful craft that teaches you to connect to the deepest sources of your energy. You can use it to create art if that's your thing. You can use it to create more healthy resilience to your every day if that's what you need…
And once you've experienced the connection and know how to get there again and again, you have much more agency to actively and consciously choose how you use your energy. That in itself is an act of great resistance and activism in the demented political climate we're living in. Add that to healthy resilience and creative flow and watch things change.
There you have it: to be Connected to Source through the magic Arteries of Dance Improvisation – that's our destination for this weekend's workshop. Details and RSVP below – check it out and join us on the adventure!
Here are the details:
Connected to Source
Deep Listening & Freedom of Expression through Dance Improvisation

Sunday, March 18
1 – 3 PM
CRS (Center for Remembering & Sharing)
White Room
124 4th Avenue, New York, New York 10003
*A Fundraiser to Support The Dragon's Egg Artist Retreat Center*
$30 Suggested Donation (all proceeds go to The Dragon's Egg)
RSVP to attend forthedragonsegg@gmail.com
Workshop led by Ophra Wolf from Force and Flow Integrated Bodywork
Dance improvisation can be one of the most direct and profound ways to communicate with your soul and give expression to the subtle movements of your heart. When you're able to drop down into a deep state of listening and connection with the very source of what moves you, you experience a sense of freedom and innate knowing that will fuel every aspect of your life.
In this 2-hour introductory workshop we'll explore pathways for entering this state of deep listening and embodied awareness, and draw on knowledge and techniques from the worlds of Qi Gong, bodywork, authentic movement, and Tuning Scores. Expect to move energy, find new possibilities for expression and discover thrilling satisfaction in free and mindful movement.
Open to all levels and backgrounds – whether you're a dancer, a creative from another field, or simply someone who's ready to move more freely, there will be treasures waiting for you. Bring comfortable clothes to move in, water, and a notebook.
PHOTO CREDIT: CRAIG CHIN