New Years Wishes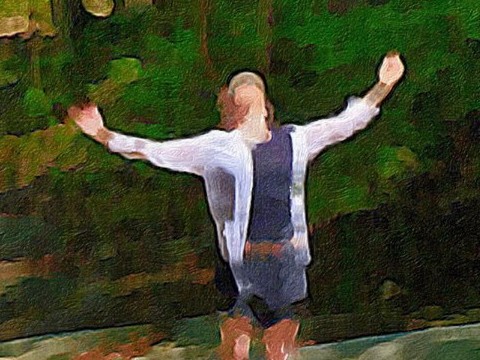 A vital, healthy 2015 to the adventurers and seekers of the Force & Flow family!
I sent this email out to my mailing list yesterday, and I'm sharing it on the blog for those of you who don't get me in your inbox (it's easy to remedy! just look up at the top left widget and you'll see a simple sign up form).
Never mind "happy" for the coming year, I'm aiming right for JOY and wishing you the same. And pleasure and ease, too, even as you scale the heights of your greatest challenges and descend to the dark roots of your dreams and dilemmas.
Here's another wish much greater than happiness that I have for you – that you find the generosity and compassion towards yourself to pause in the discomfort. That's where the riches are and where the root to every transformation lies.
As much as I love toned muscles, they're only a flimsy metaphor for the far more vital and powerful strength that comes from being present to the life that flows within you – even and especially through the discomfort.
And you might not hear it frequently enough, so I want to say Thank You.
Because for every discomfort that you've been willing to face instead of push aside, for every painful pattern that you've been willing to make the time and effort to begin unraveling, you've made a substantial contribution to paving a new path, not just for yourself, but for everyone who's life you touch. If you take a moment to acknowledge this, chances are you'll find the strength to do a lot more of it in the coming year/s.
A new way of being begins inside of you, and nowhere else.
Presence, Strength & Vitality
with Joy, Ease & Pleasure
and the Courage and Compassion
to pause in the discomfort…
so you can harvest the hidden
treasures that lie within,
and discover a sustainable,
never-ending supply of energy
for growth and transformation.
This is my wish for you, and for all of us on this path to reaching our highest potential and experiencing a world which reflects our highest nature.
It's also what I'm here to help you do, because we all need support and it may just be that my way of dropping down and becoming more fully present to the experience of your body is part of your way out of your pain and into your power.
If you want to talk about how I can serve and support you in the New Year, click here, fill out the form and we'll connect!
With love and gratitude,
Ophra *That beautiful pic above? It's by
Jacki Dickert
, one of my favorite photographers these days, taken of me on one of my favorite days of 2014, dancing in the woods with some amazing colleagues.